The main bathroom in this property was mainly unused except for when guests were staying. The master bedroom had a lovely ensuite and the customer only child had their own ensuite too. The desicion was made to remove the bath and have a shower tray fitted instead. Plus the customer had never been happy with the initial bathroom…let's say the previous bathroom fitter's attention to details was a little lacking. A good example of this is the surface mounted pipework and electric cable for the electric shower, contained in a large piece of trunking and hacked through the coving, with no effort made to make good whatsoever.
The soil vent pipe so close to the edge of the bath there was barely any room for the boxing, so this caused a bit of a problem when trying to fit a 700mm shower tray. Had the soil pipe boxing been carried straight across to the righthand wall it would have been a lot easier to fit everything but this would have lost a full 300mm off the length of the shower enclosure. Also, as the vent pipe boxing was right up to the edge of the tray there was no easy way to fit the shower screen. If fitting it on the edge of the tray as normal, 300mm would have been hidden behind the boxing with a 20mm gap that wouldn't have been cleanable and looked very strange. You can't move the soil vent pipe so a solution had to be found.
The solution was so build a 'kerb' next to the shower tray so the shower screen could be fitted on top of this with the vertical edge fixed into the soil vent pipe boxing, rather than the back wall. The kerb method to separate the wet floor area from the rest of the bathroom is a lot more common in America and was something the customer had seen in a hotel while on holiday. Real black slate mosaic and black grout was used for the kerb, which provides good grip under foot, and three sides of the niche were tiled in the black slate as well.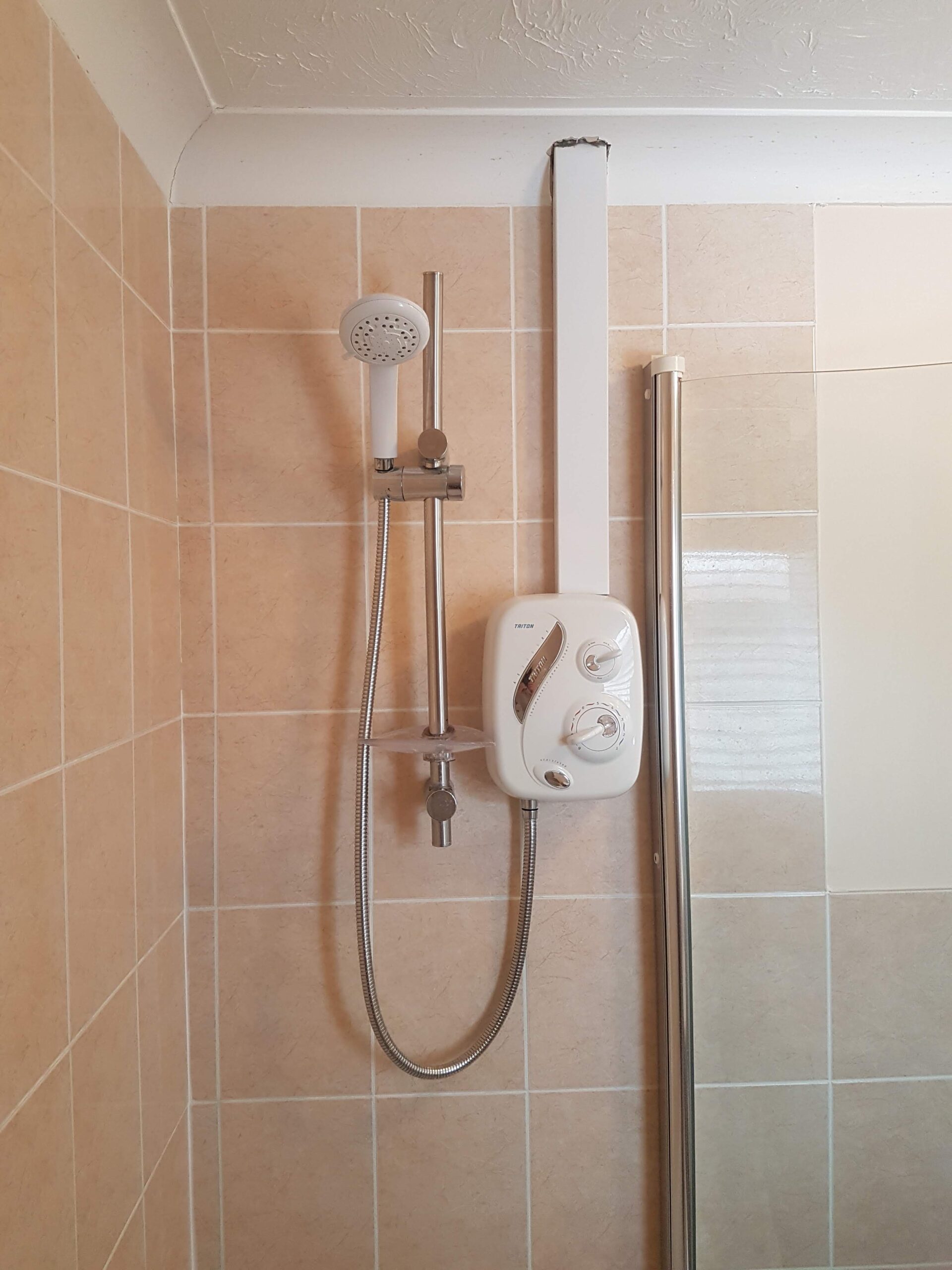 Check out the 360 degree BEFORE image, unfortunately no 360 of the finished project got taken on this job.
Click and drag around the pictures to view floor, ceiling and stop rotation.
Before…
( If "Image Not Found" shows above please try reloading the page. )